By way of disclaimer, Art Ticknor is a friend of mine, so that makes this review quite biased or gives me a unique insight into his story; that's for you to decide. I've known Art since the mid-1990s, when I was just a wee spiritual lad and he was one of the "old-timers" who hung around Richard Rose. Though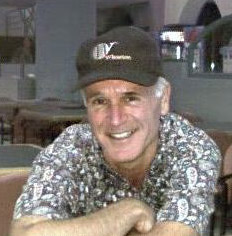 I knew Art, I didn't know much about him. Gracious is a word that comes to mind, but also a man treading water. Treading water may sound like a negative, but it takes a heck of a lot of persistence to keep treading in the face of no hope of rescue. Maybe he was, unbeknownst to me and to him, the proverbial man with the red hot cannonball stuck in his throat — which he can neither swallow nor spit out.
This came to a peak in 2004, when he decided to finally "get serious":
I spent the week through May 10th in a hermitage cabin at a Benedictine monastery outside Erie, PA. Their property runs to the shore of Lake Erie and includes quite a bit of acreage, much of which is woods. Reading the Prologue of Douglas Harding's Little Book of Life and Death a month or two earlier triggered a yearning to get serious, which carried into this retreat.

I began the stay with a couple days of fasting, having found over the years that the shock it produces on the body inevitably shocks my mind out of whatever rut it's in, then stayed on liquids for the rest of the time. By the fourth day my organism had recovered its vitality, and I started going through the "tests for immortality" in that book. Douglas's doing his tube experiment with me last October had set the stage, since I saw then that I was the featureless space upon which all objects occur. Going through the tests carefully over the fourth through sixth days increasingly removed the mental doubts about what I was seeing when I looked within.

On the night of the sixth day, when I wasn't expecting it, the final nail was driven into the coffin of the ego in an intense (but effortless) period lasting a little over an hour. Strangely enough, my grief was not for Art T. but for the nice old nun who is in charge of hospitality at the monastery and the poignancy of her belief that she is alive and separate.
I've known Art Ticknor before and after his self realization. He is certainly changed — or the center from which "he" operates is changed. Standing next to the guy, I sense contentment and relaxation. Yet, he is very aware of the minds of those around him. In fact, I consider him one of the few experts at Richard Rose's technique of confrontation.
Rose considered confrontation one of the cornerstones of spiritual work. Basically, it is a group discussion in which members look for inconsistencies, rationalizations, and blind beliefs in one another. It easily devolves into ego-based debate and defense without a skilled moderator. Art Ticknor's presence is a great aid in confrontation as he has the wisdom of years and the wisdom of an ego-less perspective — allowing him to more easily recognize the ego's defenses.
Here's a bit of verse that may give you a sense of where he stands:
I am always right behind you
But turn around and you won't see me
I am never not with you
Why aren't you always with me?
I am at the center
while you stay at the periphery
I am there, too,
but you won't find me there.
When you turn round
the center stays behind you
Stand still while turning your gaze around
and look at what you're looking out of.
Art Ticknor is a definite "invaluable helper along the way," though one you probably need to interact with (rather than simply read his writings) to derive the full benefit. If you'd rather dip your toe in the water first, his book first book is Solid Ground of Being.
Conscious.tv did an excellent interview of Art Ticknor:

Art's Self-Discovery Portal contains a vast amount of information on the spiritual search, including the Gainesville, FL group which he occasionally moderates.
Art is also featured in the film Closer Than Close.