I met Paul Hedderman at the Raleigh SIG retreat in October 2010. His unique phrasings and energetic personality immediately caught my attention. It's not too surprising that a guy whose website is zenbitchslap.com would pique one's curiosity.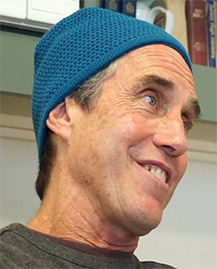 Listening to Hedderman speak informally to three or four interested listeners Friday evening, I tried to pay more attention to his presence than his words. For what it's worth, it felt like he rested somewhere solid; from which place his engaging personality would spring forth then return to rest. Later, I heard Paul describe himself as traveling easily, and I agree.
So what does Paul Hedderman have to say? His Zen Bitchslap site is aptly named as he tries to shake our ego-induced hysteria of self-importance with verbal whacks. "Selfing," self-identification is our core mistake, he says. Like many teachers, he finds spiritual practices to be more bondage, since everything we do has the word "my" preceding it. My practice, my relationship — it all revolves around a self which will vanish.
Here are a few other Hedderman slaps:
What we attempt to do here is share about what we are not.
You just see there is no relationship.
The whole how and why of recovery is to quit playing god.
Who are you buying off by all your doing? The god of your mind's making.
I'm not looking for relief for self; I found relief from self.
There is no see-er that is seeing.
The best way out is to realize you were never in.
Hedderman believes there is nothing for a seeker to do except just stop being a self. In this belief, he falls victim to the simplicity of retrospect. We tend to look back upon our experiences and smooth over the details. The struggles which proceeded a moment of realization are discounted when the realization reveals the illusory nature of all experience. I am left wondering how effective a teaching he offers. He says, "Hopefully there is a sense of certainty that is contagious…. That's why I do three talks a week."
To get a better sense of his teaching, I listened to several of his weekly talks available on his website. After stating at the Raleigh retreat that he doesn't like questions, I was curious how he interacts with people. While there doesn't appear to be much dialogue in his weekly talks, I did hear one exchange with a woman who wasn't buying his message. I found Paul quite talented in trying to help her understand that she could not be both a body and a spirit. He used a chair to represent the body and the space in which the chair appeared as the spirit. He was very patient with her aggressive preconceptions, though he finally gave up, saying, "well, we're just having different experiences."
Paul Hedderman's weekly meetings are in San Francisco and Marin City, California. I recommend checking him out. I find him honest and accessible. His background in recovery and AA gives him a strong grasp of the many ways we attempt to live a lie.
After moving to California I found the opportunity to attend a satsang with Paul Hedderman. We met at a small church in Marin, and pulled the chairs outside to enjoy the California weather for an hour-long session. A man of no pretense, dressed in a t-shirt and jeans, Paul began talking after a few seconds of silence. "Probably none of you are here for 'nothing,' but if you could come away with that, that would be something."
Paul spoke for forty-five minutes, then opened the door for questions. I told him it sounded like luck as much as anything we do that brings us an answer and wondered what he thought about that. He agreed, but pointed out that "entertaining the possibility" [that we are not the mind, thought, etc.] was a way to allow grace to occur. "Entertain the possibilities; put yourself in positions," [for grace].
His teaching is simple in a way, but he also pushes the listener to be honest, to observe, to consider the facts of their experience. Is there any solidity to the identity? Is everything about "us" after the fact of experience? Are we (the "I," the "me") simply a ghost? Definitely a guy worth spending time with. After the meeting, a basket was passed for donations with absolutely no fanfare or feeling of requirement. Very cool.
In fact, I grew to like Paul Hedderman so much, that I made a film about him:

Traveling Lighter with Paul Hedderman is available at my Poetry in Motion Films website.
Paul Hedderman's Zenbitchslap.com contains numerous audio and video of talks, all for free.
If you like the written word, there is a small book based on Paul's Saturday morning talks. The Escape to Everywhere is not a transcript of any one talk, but more of a collection of aphoristic snippets that capture potent strokes of Paul Hedderman's teaching. Here is an excerpt:
We are saddled with the proscribed way of looking called self-centeredness. Everything is perceived as to how it pertains to me.
The thing to do is to turn the light on it to see that all there is, is subject; there is no object called me as a subject.
There's just subjectivity. That's the truth.
Then enlightenment and all these goal become non-goals, because you realize there is nothing to seek. I am that which I've been looking for.
In 2017, Paul released Under A-Rest. I have not read it yet, but it looks to be an examination of the 12 Steps, AA, and the illusion of a separate self that fundamentally drives all addiction.