To hear John Davis II read his poems is like being exposed to the soul of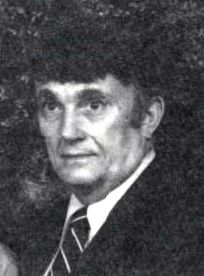 the man. Shortly before his untimely death in 1984, he expressed his desire to "someday be the greatest orator in America." He might have been, not because of verbal eloquence, but because of the passion behind his words. Amazingly, a few years before, John Davis had been declared totally and permanently disabled due to progressively deteriorating brain damage from a 1964 automobile accident. Over the years, the successes of his life slowly slipped through his fingers. By mid-1977, he was homeless; often spending nights in a Charleston, West Virginia cemetery.
In this cemetery on a summer night in 1977, Davis had what he described as, "a series of profound spiritual knowings." "I could feel my brain reorganize," he said. He began to pull his life back together and, by 1980, his license to practice law was restored. His IQ test scores has risen from a low of 112 in 1976, to 156.
John Davis wanted to help others discover what he found during that night in the cemetery. "What's important," he said, "is that man in his soul goes into the abyss, into darkness, into death — finds something, and comes out with it." He felt that through poetry and oration, he could "talk directly to your nervous system; not your cerebral hemisphere," and lead one to an intuitive understanding of their part in the universe.
It was not to be, though. Instead this potential spiritual teacher died of a kidney infection in 1984 at the age of 50. All that remains is an amazing audio interview, which you can hear on my podcast, in which he reads selections of his poetry, and a short article containing a few poems published in the TAT Journal. I recommend the audio. There is some quality in the man's voice that touches the soul. I think the poems lose their magic when transcribed, but I'll leave you with this one:
Hymn to Almighty God
"In Charleston graveyard upon Release"

Hail moon! Hail sun!
Hail sacred tree.
The center now shall hold!
Almighty God, who healeth me.
All praise to Thee!

For thou art One!
I know! I know!
As Thou art There above.
But Many in us Here below.
O yes, I know!
I know it's so!

I'll give my best,
I'll give my all.
In Faith, I am assured.
That from this World we cannot fall.
No! Not at all.
We cannot fall!

So let me live.
So let me die.
A moth unto Thy Flame.
Light unto Light! To Thee I fly.
Nor question why.
To Thee I fly.

My burden great.
My spirit free.
A goal I dimly see.
Almighty God, who healeth me.
All praise to Thee!
All praise to Thee!
The Resurrection of John Davis: A .pdf file of the John Davis article in the TAT Journal.
The Mystic Missal has the John Davis II interview available for download, or listen to the interview on my podcast.
The Resurrection of John Davis: A Screenplay – Davis' story as an attorney and rising star in the corrupt West Virginia politics of the 1960s was so compelling that I did some further research and eventually wrote a screenplay.