John E Davis II is a spiritual teacher who passed away in 1984 , leaving behind an audiotaped interview and a few poems that appeared in a TAT Journal shortly after his passing. I resurrected that interview for this month's podcast because it's refreshingly far removed from the increasingly homogeneous mass of spiritual teachings on the market.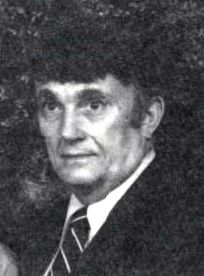 Though the audio recording shows its age, you can still detect the power behind the words of John E Davis. It's a power that builds throughout the recording, culminating in the reading of several of Davis' poems. "It's not great poetry," he says, but his voice passes a message.
I hope you enjoy this episode and want to give a special thanks to those of you who've become monthly sponsors. See the Supporter Options below for more info. on that. Please feel free to leave comments or send an email with the contact form. I always appreciate hearing your thoughts.

QUESTION(S) OF THE DAY: What was your favorite quote or lesson from this episode? Please let me know in the comments.
Selected Links and Topics from this Episode:
My special request for all listeners to consider supporting the TAT Foundation's new center. Check out the photos and make a donation on the TAT Homing Ground page.
Einstein's Space and Van Gogh's Sky. Circa 1983, John Davis' top recommendation addressing the conflict between science and spirituality.
"I saw more in that vision than I'll ever be able to tell," Davis references this saying from the book Black Elk Speaks.
Davis discusses the degenerative brain damage that led to homelessness, and his losing his license to practice law.
"All my life, I have infrequently, frequented graveyards. It's a place of solitude."
The difference between a "scuffler" and a "bum."
"You don't have a year to live. You're ready for the box." Pronouncement from Davis' doctor.
"There's one thing about the desert — you risk meeting God."
"I, a stranger and afraid, in a world I never made," Davis quoting the English poet A. E. Housman in "The Laws of God, The Laws of Man."
"Zorba the Greek is one of my heroes." "The flame burned in as strong in him an in any writer," referring to author Nikos Kazantzakis' Zorba the Greek. His Odyssey: A modern sequel, is the "greatest poem of the 20th century."
"I began to get a sense of other — something other than my own personality."
John E Davis repeatedly mentions how the crew of the tv show That's Incredible magically captured the feeling of his spiritual revelation in the graveyard. If only I could find that episode!
"I'm trying to talk to your nervous system, not your cerebral hemispheres."
Maurice Bucke's Cosmic Consciousness — "Excellent. There's are things in there I just nod [in agreement]."
"I wrote a book, Out of Darkness," from which Davis reads several poems in this recording. Despite searching, I've never located this book.
"Much of what I've been able to do after this experience is not to project so much."
"For tomorrow's hero the battle is fought within."
"Follow your fascinations."
"What's important is that man in his soul goes into the abyss, goes into darkness, into death, finds something, comes out with it."
"You've got today, now. And when you live in that here and now, a certain centering takes place, then anything can happen. That's the experience, and if you look for it you'll find it. Or, as you'll soon find out, you don't find it. God finds you."
"Engross yourself with the paradox; with the pairs of opposites."
Recommends Joseph Campbell's Hero with a Thousand Faces and Myths to Live By.
Jean Houston – one of the top twenty most interesting people in the world.
Davis says if one's voice has a certain resonance, then they can communicate something more than just words.
"We are the leaves on a tree."
"In the long run, only the impossible happens."
"Reality always leaves the experts far behind."
"Using the old myths and symbols keeps your self from getting wrapped up in thinking you thought this up."
"If I was a man your age, I'd carry two coins in my pocket. One saying the world was made for me and me alone. That is true! It is. It's waitin' just for you. I'm serious! And I'd carry another one that says I'm but dust and ashes. And that's true."
"Remember that the supreme arbiter, the judge, is your own soul's opinion. Always."
"When you're truly meditating is when your eyes listen."
Support this podcast