"Another wonderful spiritual teacher of extremely high integrity and great impact."
-Quote from the web about John de Ruiter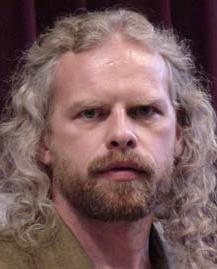 Uh huh. I knew of John de Ruiter for three or four years, but never felt a pull to explore his material in depth. Perhaps my intuition was protecting me. It just so happens that the year 2000 saw de Ruiter plunged into controversy over his adultery with the lovely von Sass sisters. Although he apparently denied the relationships at first, he rationalized the affairs (and his denial) quite well:
John says he originally denied the relationships because he was answering questions on a "personal level. And on this personal level, he is not having affairs, because the relationships are not about lust or sex or physical attraction, he says.
John says, "To me it's not infidelity. It's not unfaithfulness because my heart is still completely with Joyce [his wife]. Within, I'm not separating from her, I'm not running from her.
And further, "I'm not a sexual wanderer, emotionally. I don't live with lust. I don't struggle with that. It's not a weakness."
John de Ruiter feels he can do no wrong because he is following the truth inside him, has transcended the need for moral codes (and even a code of friendship for his wife), and everything is perfect as it is. Most of his disciples are buying his bull. At last count, he is still seeing both women and travelling the world-wide guru circuit. I would love to hear from anyone who thinks this guy is legitimate.
Not sure of the date on this video, but De Ruiter toned down the Jesus look:
A good look at de Ruiter's history and his wife's view of the affairs, as well as several other articles:
Cult Education Institute
A well-researched, in-depth and highly critical article from 2017 by the The Globe and Mail: Staring Back .  If you read this and still believe John de Ruiter is legit, then you have my sympathies.
It's astounding to me, but 20 years later, John de Ruiter is bigger than ever.  In Edmonton, there is a College of Integrated Philosophy built around his teachings.  
As a thank you for visiting, enjoy free shipping and get a signed copy of my book Subtraction: The Simple Math of Enlightenment for only $12.95.  After exploring de Ruiter, I think you'll find it refreshing.