Suzanne Segal is, like John Wren-Lewis, a case of enlightenment outside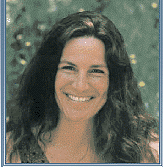 of any tradition. Several years after leaving the Transcendental Meditation movement, she was standing at a bus stop in Paris, when she was catapulted into the position of a "witness" to her mind and body. After some months, this "witness" disappeared:
In the dissolution of the witness, there was literally no more experience of a "me" at all. The experience of personal identity switched off and was never to appear again.

The personal self was gone, yet here was a body and a mind that still existed empty of anyone who occupied them. The experience of living without a personal identity, without an experience of being somebody, an "I" or a "me," is exceedingly difficult to describe, but it is absolutely unmistakable. It can't be confused with having a bad day or coming down with the flu or feeling upset or angry or spaced out. When the personal self disappears, there is no one inside who can be located as being you. The body is only an outline, empty of everything of which it had previously felt so full.

The mind, body, and emotions no longer referred to anyone — there was no one who thought, no one who felt, none who perceived. Yet the mind, body, and emotions continued to function unimpaired; apparently they did not need an "I" to keep doing what they always did. Thinking, feeling, perceiving, speaking, all continued as before, functioning with a smoothness that gave no indication of the emptiness behind them.
Suzanne Segal's mind struggled for ten years with twelve different therapists to understand what happened. She finally found a context for her loss of self within spiritual traditions. Eventually, "The fact that 'I' no longer existed, that there was no person anymore, gave way finally and completely to the realization that there is nothing that is not myself."
Before long, a small group gathered around Segal, she wrote Collision with the Infinite , and held public meetings and dialogues. Tragically, Suzanne Segal's life as a teacher was short-lived. Her health deteriorated in the spring of 1996 and, within a year, she died of a brain tumor.
I recommend reading Collision with the Infinite. It is not groundbreaking, but strikes me as a sincerely written account of a spiritual experience. She is a describer, though, and beyond that offers little except the common pronouncement that there is nothing to attain because we are already the infinite. Perhaps that is true, but the mind wants to know for sure, just as Segal's mind needed to know what happened to the sense of self.
Check out this intriguing interview of Suzanne Segal.
I hear there are audio tapes available of Segal. For information write to:
The Estate of Suzanne Segal
c/o Steven Kruszynski, Executor
P.O. Box 218
Stinson Beach, CA 94970