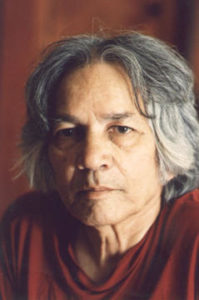 U.G. Krishnamurti and the phrase "lobbing grenades" go hand in hand. He made a name for himself by bashing spiritual traditions, teachers, and seekers. He had his reasons though:
Q: You seem bent upon demolishing everything other teachers have taught….
U.G.: My interest is not to knock off what others have said (that is too easy), but to knock off what I am saying. More precisely, I am trying to stop what you are making out of what I am saying. This is why my talking sounds contradictory to others. I am forced by the nature of your listening to always negate the first statement with another statement. The second statement is negated by a third, and so on. My aim is not some comfy dialectical thesis, but the total negation of everything that can be expressed. Anything you try to make out of my statements is not it.
U. G.'s style is reminiscent of the dialogues in The Zen Teaching of Huang Po where the hapless disciples ask all manner of questions in the hope of getting an affirmative answer, but it never comes. The master negates everything they say. At least Huang Poe hinted that there was an answer, it just wasn't something they could conceive. U.G. Krishnamurti seems intent on quashing every hope.
Is there method to his rants? After reading the diary entries (available at www.well.com/ user/jct/mahesh.html) of a fellow who spent a month with U. G., I think perhaps. My impression is that U. G. did care about at least some of the people he berated.
U.G. Krishnamurti passed away in Vallecrossia, Italy on March 25th, 2007. Here's an excerpt from the Daily News and Analysis – India:
Thinker and philosopher U.G. Krishnamurti has died at Vallecrossia in Italy aged 89.
Krishnamurti, lovingly called UG by his friends and admirers, had slipped and injured himself seven weeks ago and was bedridden, his friends said.
UG's longtime friends filmmaker Mahesh Bhatt, Larry and Susan Morris and a few other friends were by his side when he died two days ago.
Krishnamurti, who had moved to Italy in January, suffered from "cardio spasm" for many years which became quite severe in the last days of his life.
As per his advice, no rituals or funeral rites were conducted, and he did not leave instructions on how to dispose of his body, his friend and admirer AP Frank Noronha said.
The cremation was carried out by Mahesh Bhatt on Friday.
UG is survived by two daughters and a son.
"Why bother hanging around me?"

The closest thing to an official U.G. Krishnamurti website.
A site with audio and video of U.G.
A biography of U.G. Krishnamurti.