I told myself I wasn't going to write any more one-star reviews… and then I saw Pamela Wilson.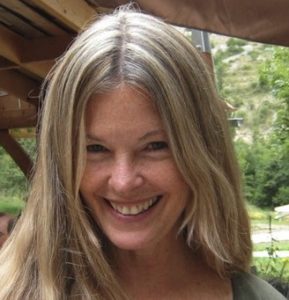 Some people believe being sweet and kind is a sign of enlightenment. It's not. There's nothing wrong with being nice and, in fact, I think there are lot of nice people in the world. I'd rather live in a world filled with nice people, but what I want doesn't necessarily have anything to do with enlightenment either. Awakening is not about finding happiness, peace, beauty, or smiling buddhas. Awakening is about finding the Truth and being open to whatever that may be.
This, preconceptions about enlightenment, is on my mind because of Pamela Wilson. I attended a satsang with her in California and found it one of the most saccharine, vacuous performances I've had the displeasure of experiencing. It was a bit like having your Kindergarten teacher reappear, only now she's talking about spirituality. The problem is, she still acts like you are in Kindergarten… and she's mildly buzzed on a narcotic.
Pamela Wilson began the evening with twenty minutes of meditation. After that she gave a rambling preamble, interspersed with a number of self-amused giggles and faint "umm" noises as if she were enjoying eating a donut… at least that's the sort of noise I make when enjoying a donut. When she stopped speaking, there was a long silence… really long. Not a profound silence, either, the kind of silence where people are waiting for you to say something and you don't. Pamela flopped her head over and rested it on the microphone. "Sometimes I like resting on the microphone. You can actually rest anywhere. It's amazing." Yeah… that's amazing.
Finally, someone asked a question about his mean boss at work who was undermining all the good he wanted to do in the world. To which, Pamela answered along the lines of: that's wonderful; thank you. You just need to honor yourself, be kind and gentle with yourself. "The most important being is you honoring you," she said. "What's so lovely about you as a sage is that everything returns to you."
Another questioner illustrated a prime difficulty with neo-advaitic teachings:
Q: Since everything is one… I seem to be in tremendous pain, vacillating with moments of awareness. [Notice the assumption that everything is one, yet the admission that in practical matters that assumption is not helping.]
A: Ahh… yeah… hmmm…. Maybe some kindness to what feels all that is needed. Like a respite. Hmm…. Perception of pressure ignites the defenses. A little kindness causes that to relax.
As best as I can remember there were three or four questions the entire evening from a group of thirty-plus people. If you have little of value to say, people won't ask anything. People won't take any notes from your session, either, which is why I don't have many direct quotes to share.
Here are a few other quotes from the satsang:
As a sage, you are divine mischief and your word is law.
I haven't found a deep pleasure in tension yet.
If you just look within, there is the warm, benevolent space.
It's always blessing all beings, but hasn't been trained to bless itself.
Oddly enough, it comes down to relaxation. The clear seeing, that's what is.
We can trust what we notice. What we notice is in service to the universe.
Yummy.
Pamela had her recognition with Neelam in 1997 and started offering satsang shortly afterwards. Neelam is a 1996 sprout from Papaji's widespread lineage. Who in Papaji's lineage is truly enlightened is a matter of some debate. I can't help but feel Pamela Wilson is a diluted version of whatever Papaji offered. You will find many others, however, who feel blessed by Pamela's work. It may help you feel good about your self, but I don't think what she offers is a particularly direct or effective way to the Truth.
Here is an interview with Pamela Wilson that fills in some of her backstory: Chapter 1.
Here is a typical Pamela Wilson satsang:

The official Pamela Wilson page is PamelaSatsang.com.