The first time I saw Richard Rose, I heard him give his Lecture of Questions. It began with "What do you know for sure? Does a man own a house or does a house own him?" and continued, question after question, challenging my assumptions, beliefs, and hopes about every aspect of life. I was both stunned and inspired. My life was literally never the same afterwards.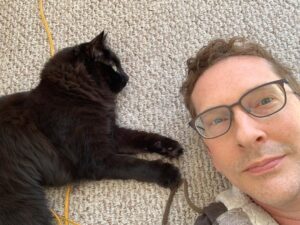 In the thirty years since that lecture, I found other questions that drew me — natural koans is a good name for them. This month's podcast edition is my own version of Rose's Lecture of Questions. I kept a few of his originals and added some of my own. Hope you enjoy, are inspired, and challenged by these.
Please feel free to leave comments or send an email with the contact form. I always appreciate hearing your thoughts.

QUESTION(S) OF THE DAY: What was your favorite quote or lesson from this episode? Please let me know in the comments.
Selected Links and Topics from this Episode:
Read Richard Rose's original Lecture of Questions.
I originally delivered this Lecture of Questions at a TAT Foundation weekend retreat. It's worth checking out their events.
Here's the complete text of this Lecture of Questions:
What do you know for sure?
Do you have power or are you overpowered? A predator or a victim? Or both?
Do you enjoy or are you consumed?
Do you really reason … or are you so programmed?
Can you learn … that which you really wish to … by yourself alone?
What is the difference between knowledge and being?
Can you become? How shall you know what you should become?
*
Who is knowledgeable about good, the item goodness?
Is good that which we desire … or that which is in itself good?
Do we discover that which is Real or do we create it?
Do we actually know that which we are doing? If so, why do we repeatedly regret things that we do?
If we decide to create our future through positive thinking or levers of manifestation, should we not first have some understanding of what motivates us?
Have you ever watched yourself make a choice? What is the impulse that precedes the decision?
From what depths does the final decision bubble up into consciousness, or from what heights does inspiration descend into the mind? What are the depths and heights of our being?
Do we ever see the world or ourselves clearly? Or is our view constantly colored and influenced?
Which of these is your chief influencer? opinions absorbed from family, friends, or neighbors, advertising that imitates news, news that imitates truth, conscious or unconscious traumas, hereditary conditions, instinct, past lives, planetary forces, or the will of God?
*
Do animals have consciousness? Do plants? Or molecules?
How do we measure consciousness?
If we judge someone or something as unconsciousness is that simply a failure of the sensitivity of the measuring instrument?
Do animals feel pain? Joy? Love? Do they feel the approach of death?
Science periodically announces the discovery of human-like qualities in animals. Is this the truth or are all human qualities simply those of animals?
Does a spider plan its web? Does a human plan its life?
What is the difference between natural and man-made?
Are humans separate from the natural world or an emanation from it?
Are humans a parasite on the Earth, its divine guardian, or a visitor?
*
Are you a unique identity or an assemblage of parts walking in a meatsuit?
Do you plan the motion of each footfall?
Is there an intelligence of the body? of the digestive system? of the cell? Is there an intelligence of mitochondria within that cell? Of an enzyme within that mitochondria? Of the amino acid that forms the enzyme? what of the carbon (C), hydrogen (H), oxygen (O), and nitrogen (N) elements that form the amino acid? Is there an intelligence of the atoms which form the elements? Of the protons, neutrons, and electrons within the atom? Of the quarks within the protons?
Is the mind separate from these excavations into ever more fundamental divisions of particles?
Or are the mind and matter inseparably connected?
What is the mind?
*
What is time?
Does time pass or is it only you who passes?
Which lasted longer: the summer vacations of your youth or this past year?
Does the ant or amoeba interpret duration the same as a human or does its time pass more swiftly?
If the clock stops, does time stop? If the rotation of the earth stops, does time stop?
What is space?
Is space interdependent with time?
Do space and time exist at all except in reference to us?
Does stopping the mind stop time?
What is eternity? What is infinity?
Can we conceive of an eternity as anything other than a very long span of time?
Can we conceive of infinity as anything other than a very large space?
What does a lifetime feel like?
How will we know when it ends?
*
What is self? What is other?
What is the borderline between self and other? Is it the surface of our skin?
If we touch our left hand with the right hand is that left hand an "other?"
If we touch our friend's left hand with our right hand is their left hand an "other"?
What is "inside" and "outside" in relation to our self?
Where is "inside our self"?
Without distance and separation would time exist?
Without the senses, would we be imprisoned or freed?
*
What is the Now?
If you are not "being here Now" then where are you?
If you think of the past, does that thinking happen in the past? If you think of the future, does that thinking happen in the future? Or is all thought occurring in the Now?
If so, then who is it that believes the Now is someplace other than right Now?
*
What is awareness?
Is awareness separate from the mind?
Is awareness separate from the body?
Have you ever passed out, been knocked out, or anesthetized? What became of awareness?
What becomes of awareness when you sleep?
Does awareness only exist for you if you are aware of it?
If you become aware of awareness are there now two awarenesses within you? If so, which awareness is more real?
*
What is feeling?
What is a feeling of God, the Divine, or something/anything other than our individual self?
What is it to know with certainty?
Do you remember the certainty with which you held to childhood beliefs in Santa Claus, God, or monsters under the bed?
What is intuition?
How does one arrive at it? Can it be improved?
Is intuition limited by the symbols in which we allow it to be expressed?
Are those symbols in turn limited by our pre-conceptions, beliefs, fears, and desires?
*
What is death?
Is all religion and philosophy merely rationalization … to answer constant cellular awareness of death?
Or is the belief in life after death an intuitive reading? A reading not completely translatable into limited human symbols?
What proof do we have of life after death, for us as an individual?
We see a dead body and recognize something is missing. What is it? Where did it go?
*
What is life?
Is it a collection of memories?
What fraction of a day do we remember and how accurately?
Is life a dream – or an illusion, Or an opportunity?
What is a life well-lived?
Is this life just one of many?
Are we ever-evolving?
If so, what is it that is evolving? Is it a soul? A spirit? An individual self?
If so, what is the point? What is the ultimate aim of this evolution? Is there an end?
What happens after we reach the end?
What were we before we were born?
*
What are death and life?
Can we conceive of anything other than endings and beginnings?
What is the difference between something and nothing?
Between being and non-being?
Or is there a third way? That is not a way at all?
But a transformation.
A revealing.
A revelation.
Beyond seeming.
Beyond dreaming.
That is both the roaring of a waterfall,
the ringing of a tiny, silver bell,
And silence.