When Paul Rezendes was kind enough to write a blurb for the back cover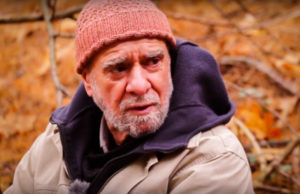 of Images of Essence, my book collaboration with Bob Fergeson, I had no idea there was anything more to Paul than being a talented nature photographer and wildlife tracker. A few years later, a friend recommended I watch of series of videos featuring him. I was immediately hooked by Paul Rezendes' unique way of presenting self inquiry as "tracking the mind."
I hope you enjoy this interview, as it brings to light the passion for truth that Paul Rezendes' life exemplifies and which he emphasizes with those he meets.
Listen to the interview on iTunes, Stitcher, or Google Play.
Stream by clicking here, or download after you follow the link by using right-click and then "save as."
If you enjoy the podcast, join my monthly supporters. Your help is appreciated.
QUESTION(S) OF THE DAY: What was your favorite quote or lesson from this episode? Please let me know in the comments.
Selected Links and Notes from this Episode
The Mindful Tracker videos. [3:33]
In Paul's late 20's he had a "wake-up call" about his life. [4:15]
Most of the time we're looking for self-gratification, but if the Truth becomes more important than that there is a possibility of something to happen. [5:40]
Paul was the leader of two different motorcycle gangs! [8:20]
One of his first questions was "What's fear?" [10:00]
Paul left the gang and started doing Yoga, reading Krishnamurti, and St. John of the Cross [11:20]
Paul's book The Wild Within is about his life in gangs and the transition to a life of self inquiry. [11:48]
Disillusionment with Catholicism. [13:10]
On becoming incredibly attentive. [18:45]
The realization that the one was who paying attention was identification with a self. [20:10]
People have awakenings, but then wonder why they get angry. [24:44]
When anger comes up that's an opportunity to observe the fragmentation we've created inside ourselves. Usually we are trying to resist it. [32:25]
The only thing people can do is self-inquiry. Self-inquiry defined. [34:35]
Paul's online discussion group: The Die Hards. [37:10]
More about The Die Hards. [44:00]
"When you walk into the forest, you walk into the past…. You are closer to your origins." [46:05]
Wordless communication between a two people and its relationship to passion for truth. [48:25]
You don't have to still the mind for awakening to occur. [51:15]
Why it does no good to tell people to "do nothing." They have to find out for themselves. [52:35]
That there is "no self" and nothing to do can be just another belief system. [55:48]
David Bohm dialogues. "There's the possibility for a group of people to wake up as the same mind." [57:35]
The MindfulTracker.com [1:01:58]
David Bohm's guidelines for dialogues. Also, see David Bohm's book On Dialogue. [1:02:45]
Books that Paul recommends: The Wild Within, Adyashanti, Scott Kiloby, Eckhart Tolle, J. Krishnamurti, Alan Watts, Steven Harrison's Doing Nothing [1:04:52]
How most movies and music strum the strings of the ego self. [1:08:50]
Art and the creative process. [1:11:05]
"Awakening isn't a reaction to something." [1:14:18]
Anyone is welcome to email Paul or join his online dialogue group. [1:17:44]
There is also a free, feature-length documentary called The Inner Tracker that has Paul Rezendes and a number of other notables in the tracking community gathered to talk about a "new" kind of tracking: the tracking of the self. I have a background in environmental education, so found it interesting to see some of the participants tightly bound to concepts and identities around protecting nature, confronted by the fundamental question of "who is it that believes they are saving something?"