The poetry of Pattiann Rogers pauses me in mid-thought, turns me reflective, appreciative, and full of wonder. What follows are a few words from Pattiann Rogers on her art and practice, and a life of creative exploration. You'll also enjoy my interview with Rogers.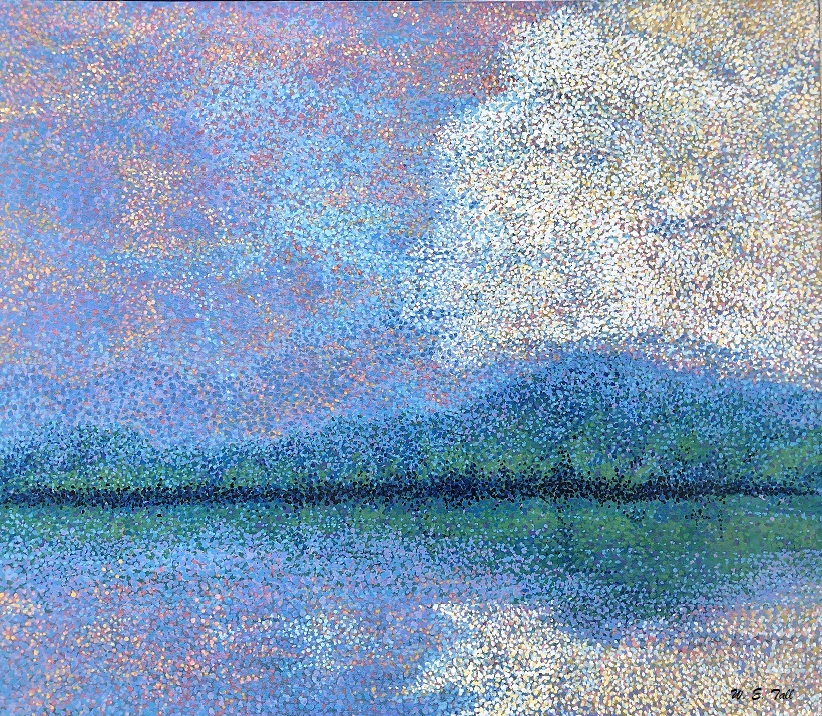 The majority of my poems I regard as quests. The poem begins when I ask myself a question or propose a supposition or an hypothesis about an experience or an image that has moved me, engaged my curiosity, but I don't know why or how. The poem proceeds by my offering responses to the initial question, imagining and exploring possibilities by using language and its music. The music of the poem, its cadences and sounds, is of utmost importance to me. Music reinforces the experience and power of the words. Music is felt; it belongs to the body. If, as I'm working on a poem, it goes awry, then most often the music will falter, and my body's reaction will indicate the failure. I don't aim for certainty or answers in my poems. I aim for discovery, seeking a new perception that surprises or pleases me or seems to fit in the puzzle. I seek for new perceptions in my poems of celebration and in my love poems, as well as in my poems of the physical natural world. This is my primary method of creating poetry, but not my only method.
Here are three poems that are examples of what I've attempted to describe above:
Opus from Space
Almost everything I know is glad
to be born–not only the desert orangetip,
on the twist flower or tansy, shaking
birth moisture from its wings, but also the naked
warbler nestling, head wavering toward sky,
and the honey possum, the pygmy possum,
blind, hairless thimbles of forward,
press and part.
Almost everything I've seen pushes
toward the place of that state as if there were
no knowing any other–the violent crack
and seed-propelling shot of the witch hazel pod,
the philosophy implicit in the inside out
seed-thrust of the wood sorrel. All hairy
saltcedar seeds are single-minded
in their grasping of wind and spinning
for luck toward birth by water.
And I'm fairly shocked to consider
all the bludgeonings and batterings going on
continually, the head-rammings, wing-furors,
and beak-crackings fighting for release
inside gelatinous shells, leather shells,
calcium shells or rough, horny shells. Legs
and shoulders, knees and elbows flail likewise
against their womb walls everywhere, in pine
forest niches, seepage banks and boggy
prairies, among savannah grasses, on woven
mats and perfumed linen sheets.
Mad zealots, every one, even before
beginning they are dark dust-congealings
of pure frenzy to come into light.
Almost everything I know rages to be born,
the obsession founding itself explicitly
in the coming bone harps and ladders,
the heart-thrusts, vessels and voices
of all those speeding with clear and total
fury toward this singular honor.
from Eating Bread and Honey (Milkweed Editions, 1997)
and from Song of the World Becoming, New and Collected Poems,1981 – 2001 (Milkweed Editions, 2002)
(Published with the permission of Pattiann Rogers)
Egg
Perhaps the light inside this temple
is less than a small candle barely
burning beneath a violet shade,
an uncertain diffusion like a glow
of glacier at night without moon,
a presence like morning over a pale
field before dawn, dimmer than day
with no voice to declare it.
Were there ears to hear inside
these halls, then a constant connecting
like scales of organ chords played
in arpeggio by two hands might be heard
as the spine assembles itself, a sound
like the low pizzicato of a cello
as the first faint plicking
of pulse commences.
One could claim a belief in crosses
exists predestined in the pattern
of arteries forming their junctures
yet to appear.
Were a seer present she might say
the attention inside this temple
is like that of rock spurs suddenly
quaked and rebounded by lightning.
Were a shaman present inside
these translucent walls, he might say
the sentiment is like that in a random
meadow of columbine filled
with mountain air before rain.
And were a master in the making here,
he might claim the process witnessed
in the rising and joining of warm wax
cells and oils is god, the exquisite
weaving of salt ropes and red twines
is the presence of god.
Though not one single star
exists in the curved breadth
of this structure, yet the only possible
place where any star might be found
is inside the immeasurable horizon
of the thin-skulled cranium about to be.
Could it be a worship of any kind
beheld in this first absence moving
toward a possible breath of protest
and sacrament?
When the last latching occurs, bringing
the rude kick and the cry, then this temple
must fail, fall, shatter away altogether,
and the world, at once, begin anew.
from Eating Bread and Honey (Milkweed Editions, 1997) and Song of the World Becoming, New and Collected Poems,1981 – 2001 (Milkweed Editions, 2002)
(Published with the permission of Pattiann Rogers)
Born of a Rib
Genesis 2: 21,22
Maybe it was actually from the delicate
rib of a pinon mouse put to a deep
sleep just for this purpose in his bed
of shredded juniper bark, or from
the steadfast bone of a snoring boar,
that chest stave as tough and stone-
mandatory as one of his searing tusks.
Sometimes it seems the making
must have originated in the edifying
rib of a fern leaflet drowsy
before dawn, because the satiating
taste of its earth-subtle sap
still lingers in the mouth. Yet
there is evidence that the forming
came from the marrow blood of a blue
whale's rib, because the regular
thunder of his near heart remains
permanent and dictatorial in the sound
of time passing in its orbits.
There are moments when I could imagine
emerging, gyring and firmament-rounded,
made soaring by the hollow bone
of a broad-winged hawk in his element,
or being turned upside down, born
subterranean, sun-denying and recalcitrant
from the dormant rib of a brown bat
in his cave hibernation.
Everything might be different today,
we could agree, if the rib chosen
had been taken from the shell
of the somnolent rosy cockle,
so steadfastly sculpted, so smoothly
sea-polished, so stoically pure,
or if the insistent, violet rib of the rainbow
had been the one selected,or if the false
transparent rib of the night's vaulted sleep
had been the one extracted for the purpose.
But in truth—remember—from whatever
spine of creature, plant, or sky-cage
the said material rib was stolen,
to that alone must belong forever,
all the blessing, all the blame.
from The Song of the World Becoming, New and Collected Poems, 1981-2001 (Milkweed Editions). This poem was included in The Best Spiritual Writing, 2002, edited by Philip Zaleski, HarperSanFrancisco, a division of HarperCollins Publishers
(Published with the permission of Pattiann Rogers)
A Short Biography (2018)
Pattiann Rogers was born, raised and educated from elementary school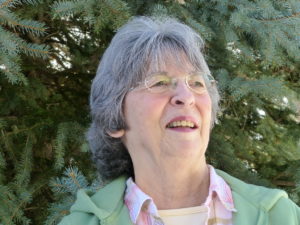 through high school in Joplin, Missouri. She graduated Phi Beta Kappa from the University of Missouri, Columbia, with a Bachelor of Arts degree in English Literature and a minor in Zoology. She holds a Master's Degree in Creative Writing from the University of Houston.
Pattiann Rogers has published fourteen books of poetry, most recently Quickening Fields, (Penguin, 2017) and Holy Heathen Rhapsody (Penguin, 2013). She has published two books of prose The Dream of the Marsh Wren, and The Grand Array, Writings on Nature, Science, and Spirit.
Rogers' book of selected poems, Firekeeper (Milkweed Editions), was a finalist for the Lenore Marshall Award from the Academy of American Poets and a Publishers Weekly Best Book of 1994. Her collected poems, Song of the World Becoming, New and Collected Poems, 1981-2001 (Milkweed Editions, 2001), was a finalist for the Los Angeles Times Book Award.
In 2018, Rogers received a special John Burroughs Medal for Lifetime Achievement in Nature Poetry. She has also received two NEA Grants, a Guggenheim Fellowship, a Fellowship and a Literary Award in Poetry from the Lannan Foundation. Among other awards, her poems have received five Pushcart Prizes, two appearances in Best American Poetry, five appearances in Best Spiritual Writing, the Tietjens Prize and the Hokin Prize from Poetry, the Roethke Prize from Poetry Northwest, and two Strousse Awards from Prairie Schooner.
She has taught as a visiting writer at several universities, including Montana, and Texas, Washington University, and Pacific University, and was Associate Professor at the University of Arkansas from 1993-97. In May, 2000, Rogers was in residence at the Rockefeller Foundation's Bellagio Study and Conference Center in Bellagio, Italy. Her papers are archived in the Sowell Family Collection at Texas Tech University.
Rogers is the mother of two sons and has three grandsons. She lives with her husband, a retired geophysicist, in Colorado. To contact Rogers, send a note to pattiann_rogers@comcast.net.
List of Published Books
Poetry
The Expectations of Light (Princeton University Press, 1981)
The Tattooed Lady in the Garden (Wesleyan University Press, 1986)
Legendary Performance (Ion Books, 1987)
Splitting and Binding (Wesleyan University Press, 1989)
Geoentric (Gibbs Smith Publisher, A Peregrine Smith Book, 1993)
Firekeeper: New and Selected Poems (Milkweed Editions, 1994)
Eating Bread and Honey (Milkweed Editions, 1997)
A Covenant of Seasons (in collaboration with Joellyn Duesberry, Hudson Hills Press, 1998)
Song of the World Becoming: New and Collected Poems, 1981 – 2001 (Milkweed Editions, 2001)
Generations (The Penguin Group, 2004)
Wayfare (The Penguin Group, 2008)
Firekeeper, Selected Poems, Revised and Expanded Edition (Milkweed Editions, 2010)
Holy Heathen Rhapsody (The Penguin Group, 2013)
Quickening Fields (Penguin/Random House, 2017)
Prose
The Dream of the Marsh Wren: Writing as Reciprocal Creation (Milkweed Editions, 1999)
The Grand Array (Trinity University Press, 2010)
Poetry, Limited Editions
Lies and Devotions, 160 copies (Tangram Press, 1994)
Animals and People, The Human Heart in Conflict with Itself, 100 copies, etchings by Margot Voorhies Thompson (Knight Library Press, University of Oregon, 1997)
Summer's Company, 151 copies, (Brooding Heron Press, 2009)
You might also enjoy: