Most of us, I would venture to say, have at some time or other had a feeling that something was present beyond our traditional senses, something without a name, not specific nor particular, but thoroughly present in a manner inexplicable, very near and very far away, beyond our current ability to explain. ~Pattiann Rogers
Pattiann Rogers is most recently the recipient of the John Burroughs Medal for Lifetime Achievement in Nature Poetry, "in recognition of the power and permanence of Rogers' entire body of work." Her first book was The Expectations of Light, published in 1981. Since then, Pattiann Rogers has published 15 other books and received numerous awards, including a Guggenheim Fellowship and a Rockefeller Foundation residency.
Pattiann Rogers has been called a nature poet, a theological poet, an environment poet, and a spiritual poet. As you'll see in our interview, she's really a poet of existence, and the grand paradoxes of a God who refuses to reveal itself, yet whose presence is felt everywhere. She's equally at home in the celebration and the examination of life, and that is reflected in her poetry which is at turns both ecstatic and probing.
This interview begins with Pattiann Rogers reading several of her poems specifically chosen for listeners of the Journals of Spiritual Discovery podcast.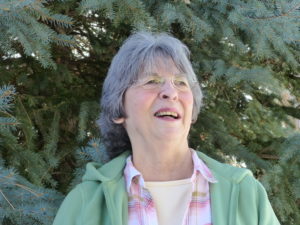 Listen to the interview on iTunes, Stitcher, or Google Play.
Stream by clicking here, or download after you follow the link by using right-click and then "save as."
Or listen on YouTube:
If you enjoy the podcast, join my monthly supporters. Your help is appreciated.
QUESTION(S) OF THE DAY: What was your favorite quote or lesson from this episode? Please let me know in the comments.
Selected Links and Notes from this Episode:
Poems read by Pattiann Rogers in this episode: "Achieving Perspective," "In Addition to Faith, Hope, and Charity," "Being Accomplished," "The Background Beyond the Background," "The Greatest Grandeur," "Address: The Archaeans, One Cell Creatures," "Hail, Spirit," "The Consequences of Death," "The Possible Suffering of a God During Creation," "Goddamn Theology," and "Inside God's Eye."
"I hear and behold god in every object, yet understand him not in the least." – Walt Whitman [0:15]
Part of confronting the mystery of life is questioning. [14:30]
"I wouldn't be a poet if I didn't have a few poems about death." [24:18]
The work of poetry as spiritual practice. [40:00]
The Dream of the Marsh Wren: Writing As Reciprocal Creation by Pattiann Rogers
"When I write poetry I'm singing, when I write prose I'm talking and there's all the difference in the world in how you can you the language to make the music you need. And sometimes the music itself can direct you to the words you need." [41:20]
Paying attention to how the body reacts to the placement of words [42:28]
"Keats said, 'the poetry of earth is ceasing never,' and that's the music of it I think, and I've wanted to express that music." [50:45]
"One of the goals of poetry in to expand the use of the language." [53:50]
"The best poetry opens avenues of thought… and make our perceptions and insights deeper than before." [54:18]
The Jerry Wennstrom Interview [1:03:00]
"The major fault I find with writers – poets – is they don't understand how hard the work is." [1:06:45]
On yearning for criticism. [1:10:36]
Pattiann Rogers recommends these two books for a selection of her work: Song of the World Becoming and Firekeeper: Selected Poems, revised and expanded . She also recommend Holy Heathen Rhapsody as a shorter introduction to her work.
For more about Pattiann Rogers, read these two in-depth interviews:
Many Edges to Explore at Terrain.org
The Iowa Review interview with Pattiann Rogers
And visit her personal page here at SpiritualTeachers.org.