This is my second attempt at a review of Vernon Howard. I read his Mystic Path to Cosmic Power (despite the comic book-like title) several times over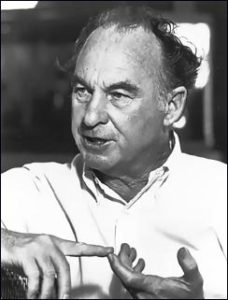 the past few years. I found it inspiring, but lacking in practical advice. His New Life Foundation recommended I read Solved — The Mystery of Life and listen to the Field of Diamonds lecture. Once again, although at times inspiring, he left me wondering what to do to realize the Truth he made so obviously desirable. I wondered if there was a secret teaching not explained in the books and tapes, but a helpful fellow at the Foundation said there was no hidden teaching.
Closer examination of the New Life website, however, revealed a series of monthly lessons. Reminiscent of Gurdjieff/Ouspensky self-observation techniques, they are worth a look. For example, one exercise has you watch how you are influenced by facial expressions. Another exercise says:
You can begin to catch your false behavior by asking the question "Who said that?" and you will catch false personality being pleasant, sarcastic, and so on. As often as you can, you will interrupt yourself and say "Who said that?" and if it is negative in any way at all, that is the invented self speaking in your name.
Vernon Howard said that, "The knowledge of human behavior will lead you to God," and I suspect this summarizes his teaching as well as anything. My path began with the study of behavior and ways of separating the false behavior in me from the true. I think this an excellent beginning for a spiritual path, but do not know if it will lead one all the way.
Here are a few quotes to give you some of the flavor of his writings:
Truth is exceedingly close, comforting and strong. Now isn't that a delightful thought to think about. Since Truth is close and strong, why are you weak? See Truth says something to you. It says, "I want you to know that when you tremble, I don't tremble." If you were to bring yourself back to where you should be internally, you would be right with Truth. It would be your comfort. You need nothing else on earth.
To change what you get you must change who you are.
Fear is caused by our insistent clinging to the false self. As we become conscious of this, our fears fade fast.
The two shallow substitutes which people unconsciously take as happiness are activity and acquisition.
One of our greatest enemies is secret resentment. Freedom begins as we become conscious of it.
There is no adventure in life as great and as wonderful as discovering the New Life.
Vernon Howard died in 1992. Like P.D. Ouspensky, he is a good beginning on the spiritual path. His teaching is more fiery than that of Ouspensky and easier to read. The New Life Foundation, based in Arizona, continues his work. I recommend investigating their well-done website — complete with audio clips.
Here's some video of classic Vernon Howard:

If you like Vernon Howard, then take a look at Guy Finley's site. Finley studied with Vernon Howard and looks to be carrying on a similar teaching but is not connected with the New Life Foundation.