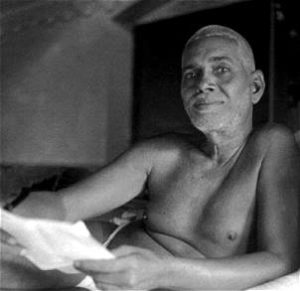 Without a doubt, Ramana Maharshi is the greatest Indian sage of the 20th century. He lived an utterly simple existence at Arunachala mountain in South India, until his death in 1950. There are no accounts of Ramana Maharshi stealing from the ashram treasury, dressing in fine clothes, having sex with disciples, or engaging in any other ego-inflating behaviors which often seem the norm in today's spiritual landscape. Instead, Maharshi lived and slept in a small hall where he also received visitors. People were welcomed from all over the world to ask him questions or sit in his presence.
Ramana Maharshi's deepest teaching was given in silence. He emanated a force or vibration that stilled the mind and led one to experience what Maharshi experienced. For those that could not sense this emanation, Maharshi verbally answered their questions. Some of these discussions were copied by hand and form the bulk of the written record of Ramana Maharshi's teaching.
An excerpt:
Q: If "I" am always, here and now, why do I not feel so?

A: That is it. Who says it is not felt? Does the real "I" say it or the false "I"? Examine it. You will find it is the wrong "I". The wrong "I" is the obstruction. It has to be removed in order that the true "I" may not be hidden. The feeling that I have not realized is the obstruction to realization. In fact it is already realized and there is nothing more to be realized. Otherwise, the realization will be new. If it has not existed so far, it must take place hereafter. What is born will also die. If realization is not eternal it is not worth having. Therefore what we seek is not that which must happen afresh. It is only that which is eternal but not now known due to obstructions. It is that which we seek. All that we need do is remove the obstruction. That which is eternal is not known to be so because of ignorance….

The ignorance is identical with the "I"-thought. Find its source and it will vanish.

The "I"-thought is like a spirit which, although not palpable, rises up simultaneously with the body, flourishes and disappears with it. The body-consciousness is the wrong "I". Give up this body-consciousness. Seeking the source of the "I" does it. The body does not say, "I am". It is you who say, "I am the body". Find out who this "I" is. Seeking its source it will vanish.
Talks with Sri Ramana Maharshi is the best collection of dialogues. Not only are there intense spiritual discussions, but also a glimpse of everyday life in the ashram. Information on books and current happenings is available at the official Sri Ramana Maharshi website.
Video footage of Ramana Maharshi:

An enormous number of contemporary teachers point to Ramana Maharshi as their guru or part of their "lineage." While this is well-intentioned in a few case, generally these people simply use Ramana's name to bolster their spiritual resume. For a picture of this confusion, see the illustration at Advaita.org. Be cautious. Ramana appointed no successors and created no lineage.