Joel Morwood is the spiritual director of the Center for Sacred Sciences in Eugene, Oregon. For over 30 years, he's helped guide seekers on the spiritual path through his many talks, essays, and books, as well as helped fashion a body of teachings that calls upon the great mystical traditions.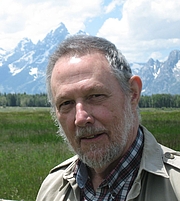 It was 2017 when I first reached out to Joel Morwood for an interview. I was told he was busy writing a book and not available until the following year. Forward to 2020 when I finally followed up with him. It was worth the wait. Honest, self-deprecating, insightful, I count Joel Morwood as a "win" in the world of spiritual teachers.
I hope you enjoy this episode and want to give a special thanks to those of you who've become monthly sponsors. See the Supporter Options below for more info. on that. Please feel free to leave comments or send an email with the contact form. I always appreciate hearing your thoughts.
Listen to the interview on iTunes, Stitcher, or Google Play.
Stream by clicking here, or download after you follow the link by using right-click and then "save as."
Or watch on YouTube.
As a thank you for visiting, enjoy free shipping and get a signed copy of my book Subtraction: The Simple Math of Enlightenment for only $12.95.
If you enjoy the podcast, please join my monthly supporters. Your help is appreciated.

QUESTION(S) OF THE DAY: What was your favorite quote or lesson from this episode? Please let me know in the comments.
Selected Links and Topics from this Episode:
My special request for all listeners to consider supporting the TAT Foundation's new center. Check out the photos and make a donation on the TAT Homing Ground page.
For more of Joel's background, see his interview on BATGAP.
Giving up on the spiritual path – kenosis – the dark night of the soul.
The value of precepts.
Practices designed to destroy the spiritual practice itself.
Joel Morwood's time with Franklin Merrell-Wolff in Lone Pine.
Joel's spiritual autobiography: Naked Through the Gate.
On the surprising number of students at the Center for Sacred Science who have woken up.
"For the spiritual path to work, you really got to put all your eggs in one basket." If you don't have that passion, fine, just keep at it and you may get it.
The Way of Selflessness – a practical guide to enlightenment that takes core teachings from many traditions come together to make a complete path to awakening. Joel Morewood considers this book the introduction to his teachings.
Effort versus non-effort on the spiritual path, giving up spiritual practices versus reaching the point where you can't do them, "who" surrenders? See Joel's article "To Practice or Not to Practice" for more.
Joel's book on preparing for death is Through Death's Gate: A Guide to Selfless Dying.
Whether any of Merrell-Wolff's students became enlightened, and a few stories from Joel's time with him.
When I asked Joel if he had any favorite spiritual films, he couldn't think of any, but later sent a note that Zorba the Greek, starring Anthony Quinn is one he often references. "Although Zorba's not enlightened, he exemplifies the freedom and passion for life that comes from practicing true detachment, as opposed to a sterile, pretend kind."
Reach Joel Morwood at centerforsacredsciences.org.
Support this podcast