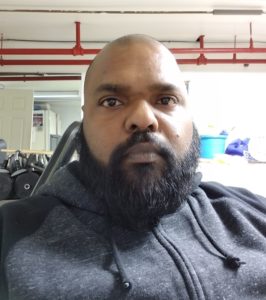 Eshwar Segobind was completely unknown to me before this interview, and I feel fortunate that his name was passed to me through friends in the TAT Foundation. Eshwar's spiritual path is remarkable both for its brevity and for the depth of practical insight he manifests. In less than a year, Eshwar went from a recovery program to a profound spiritual awakening to his true nature.
Eshwar Segobind is happy to speak to those with sincere questions and does not charge for his time. You can reach him at: sensewithoutmind [@] gmail. I trust you can decipher the last part of that means "@gmail.com".
Listen to the interview on iTunes, Stitcher, or Google Play.
Stream by clicking here, or download after you follow the link by using right-click and then "save as."
Or listen on YouTube:
If you enjoy the podcast, join my monthly supporters. Your help is appreciated.

QUESTION(S) OF THE DAY: What was your favorite quote or lesson from this episode? Please let me know in the comments.
Selected Links and Notes from this Episode:
Announcement that the TAT Foundation's April event features an excellent lineup of speakers: Paul Hedderman, Paul Rezendes, Paul Constant, Norio Kushi, and Bart Marshall. Sign up for this incredible conference at Once in a Lifetime is Now.
Eshwar's introduction to meditation [4:30]
Involvement with AA and the Twelve Steps and seeing how Step 4 deflates the ego. [4:50]
The 112 Steps of Shiva meditation techniques. [7:25]
Trying ayahuasca along with the Twelve Steps broke down a lot of the sense of self-identity. [10:14]
"There was something inside of me that was kind of guiding me." [11:50]
"At the core of what I considered myself to be, there was nothing." [14:00]
That "you have to die" is not a very popular thing. [29:30]
Enlightenment within a year. [32:00]
No one an make you feel sad or hurt. It's all based in thought. [37:15]
"You have to uproot 'you'. The thing that says it's feeling all this stuff. What is that?"[39:15]
"It's not that the world is an illusion in itself. It's the thing that's interpreting that – that's the very thing that is the illusion." [58:38]
"If a fear is coming up, go towards it not away from it." [1:00:00]
An open invitation to email or call Eshwar. Everyone is welcome to have a conversation free of charge. [1:02:40]
The effect of awakening on family relationships. [1:04:30]
"There are very few pointers that are needed." [1:08:55]
Reach Eshwar at: sensewithoutmind [@] gmail. The last part of that means "@gmail.com".

Support this podcast (this is a test link to see if it works in podcast apps).