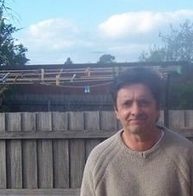 Australia: land of koala bears, kangaroos, Vegemite, and enlightened Aussies like Eddie Traversa.  Eddie is in the unique position of being both a psychotherapist and awakened, which gives him a deep perspective as well as a broad tool set with which to help clients.
In our interview, he discusses why he doesn't focus on helping people towards enlightenment, the importance of developing a relationship with the unconscious, and getting unstuck from patterns.  Along the way, we share a laugh about the motivational qualities of revenge and our fondness for the film American Beauty.
Note that Eddie passed away in 2022.  It is tragic when the spiritual scene loses an authentic teacher and friend. They are too few, and Eddie was one of the good ones. He wrote, "I am passionate about trying to help people," and he was. That was the part of Eddie that I knew and appreciated. So hold the lessons you learned from Eddie tight, make them part of your life, and then let's step forward into the breach and do our part to help.
QUESTION(S) OF THE DAY: What was your favorite quote or lesson from this episode? Please let me know in the comments.
Selected Links and Notes from this Episode
Eddie recounts heart attacks, romantic breakups, and wondering why he is miserable. All this misery led him to ask "how does life work?" [3:05]
Focusing like a "madman." [6:30]
Throwing out everything he thought that worked in order to discover what was really going on with life. [6:59]
Exploring ESP, near death experiences, telepathy and questions about the human potential. [7:39]
Eddie Traversa's favorite book is the Tao Te Ching. [8:13]
Asking how to become happy in life. [8:52]
Learning to relax and not takes things so seriously. [10:39]
Exploring what the mind is capable of through magic, and how this changed into a question of identity. [11:26]
On being an "extreme sort of guy" and living like a hermit [13:50]
Was it Eddie doing something, or God? [15:40]
Digging deeper into the question of identity. [17:00]
Practicing tai-chi. [17:27]
On going back into therapy. [19:28]
How a suicide attempt led him to make a vow that he would never again give up. [21:58]
How a teacher can lock you into a particular way of seeing the world. [23:59]
The importance of friends on the spiritual path. [25:03]
Ignorance of the ways we tell lies to ourselves. [32:50]
Eddie Traversa's awakening. [36:55]
The reasons behind Eddie's disappearance from the spiritual scene. [40:50]
The decision to start practicing psychotherapy again. [42:19]
Everything that comes out of an awakening in terms of the aftermath can be had by someone without an awakening. [45:00]
How do you teach someone to have an awakening? The success rate is terrible. [47:00]
Most spiritual seekers are stuck in patterns, so how can they be helped? [48:29]
Do we help people by offering to help them achieve enlightenment?  No. [49:55]
Do we need to get rid of ego? It's more about how we manage ego. [52:50]
Being aware of your body and the ability to let go of unimportant things are good foundations for the spiritual search. [57:49]
How to develop a relationship with the unconscious. [1:03:50]
Eddie's biggest advice: if you know where you are going in life you're likely going to get there. [1:06:25]
Tao Te Ching is the only book you will ever need spiritually. [1:08:47]
Eddie also recommends Jed McKenna's Spiritual Enlightenment, the Damnedest Thing
Yes, another vote for American Beauty as a top spiritual film. [1:09:38]
To learn more about Eddie Traversa visit edwardtraversa.com.