Gravity: A Child's Search for Meaning, written by Danny Ling  and illustrated by Elettra Cudignotto
We may come and go one day, but the cradle that contains all of us, will remain.
Young David sits under an apple tree wondering what life is all about, when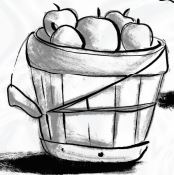 the wise Mr. Watzu stops by to give him a lesson in meaning. A basket of apples provides the content for the lesson that there is something eternal lurking behind this show of living and dying.
Nicely illustrated in black and white line drawings which gain more color as the story advances, the 44 pages of Danny Ling's Gravity culminates with a clear message that we are free to compose whatever meaning we want for our life. The child's search for meaning is answered. Recommended for ages 8 to 18.