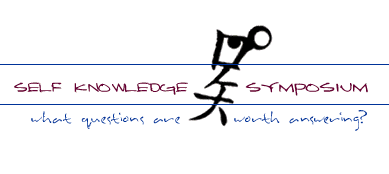 To my knowledge, the Self Knowledge Symposium is a unique feature on the college campus scene. Founded by August Turak in the late 1980's, there are chapters at North Carolina State University, UNC at Chapel Hill, and Duke University where students delve into life's deeper questions. As a college student at the University of Kentucky, I had no where to turn when I began seriously questioning what my purpose was in life and soon dismissed the question as impossible to answer. When I moved to Raleigh, NC, the SKS introduced me to the idea of the spiritual search. It was my first encounter with serious discussion of ways and means to spiritual discovery.
The Self Knowledge Symposium is an education in what it meant to be a complete human being rather than a blinkered specialist. It is a community of philosophers trying to turn all that thinking into action: trying to live the truths they discover. I gained more wisdom from my association with the SKS than in all my years of academic studies.
If you are in the Raleigh -- Durham -- Chapel Hill area, I highly suggest you check out the Self Knowledge Symposium. Several years have passed since I was involved, but you can get a feel for their current activities and find contact information at their website:
www.selfknowledge.org
2011 update: The SKS student groups have waxed and waned over the years. Currently, only the group at North Carolina State is active. August Turak has moved on to other philosophic adventures which you can read about at augustturak.com.
2014 update: The SKS is gone. The link will now take you to August Turak's site. Augie once told us we had no idea how rare such a group is. Now I know. If anyone is interested in starting such a group a University of California, Berkeley, email me at sanevins2 [replace this with @] yahoo.com.