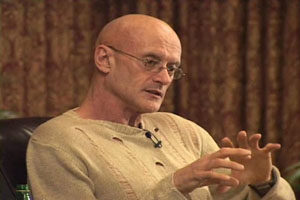 With at least 25 books to his name, I think the best way to summarize Ken Wilber is with his own words. Here is an excerpt from a forward he wrote:
For those of you unfamiliar with my work, here's the Reader's Digest version, in one short paragraph, I promise.

In a series of over a dozen books, I have attempted to create a comprehensive map of human nature (which is a little less grandiose than it sounds). Everybody knows that you don't want to confuse the map with the territory. But you don't want a totally screwed-up map, either. So in order to make as few mistakes as possible, I basically took over 100 of the best maps of human nature drawn by various cultures-East and West, premodern and modern and postmodern-and attempted to combine the enduring elements of each, along with whatever new insights I might add. The result is called "integral" because it attempts to be widely inclusive, combining the various truths in a way that is as coherent and comprehensive as possible.